scratch made
donuts and cakes
hand crafted × with love
Sweet Bakes first came to the Columbia Farmers Market in August of 2016 armed with a folding table and a couple totes of donuts. We were warmly welcomed by the sweetest community, and are convinced that Columbia,TN is one of the best towns on earth! Shortly thereafter, in April of 2017 we served our first donuts out of the cutest camper-turned-donut-truck. In the Fall of 2017 the truck moved to a pop-up location at the Columbia Arts Building and with continued growth it became apparent that this little sugar shop needed a permanent location. In October of 2018 SB opened their first official brick and mortar in off of Trotwood Ave.
WANT TO BRING THE DONUT TRUCK TO YOUR NEXT EVENT? Just shoot us an email with the date of your event and details. (We do have a $500 minimum/guarantee to bring the truck on site.)
Location
1153 Trotwood Ave.
Columbia, TN 38401
931-548-6832
Hours

Tue-sat 6am-2pm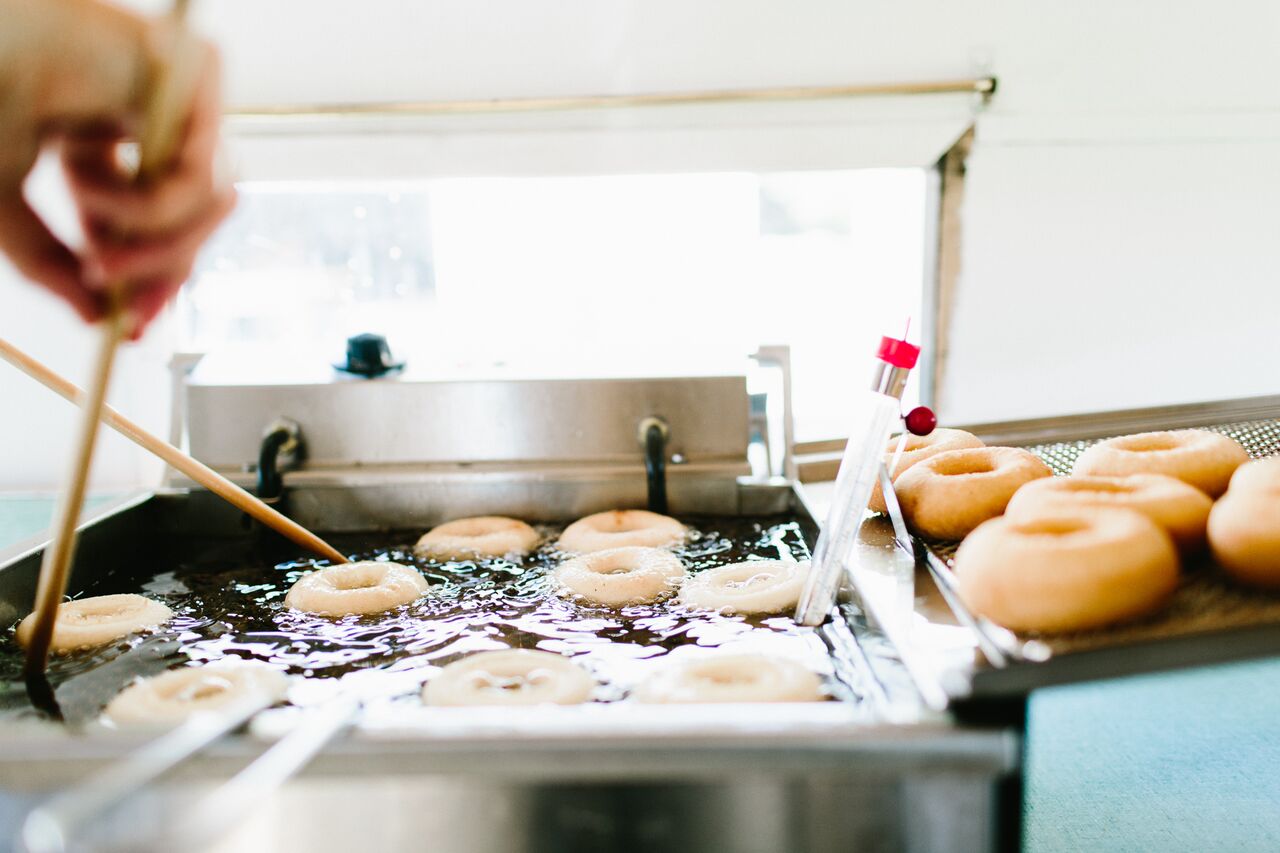 THE ORIGINALS
(Old Fashioned Cake)
$2/Donut OR $18.50/Dozen
CINNAMON SUGAR

BROWN BUTTER GLAZED

CHOCOLATE DIPPED

THE KEVIN (Maple Bacon)
YEAST
(Yeast Raised Donuts)
$2.50/Donut OR $25/Dozen
(Mixed DOZEN of Yeast and Cake is $23)
MAPLE BAR (White chocolate filled maple donut)

BOSTON CREAM

VANILLA BEAN GLAZED

CHOCOLATE DIPPED

APPLE FRITTER

SALTED CARAMEL

STRAWBERRY DIPPED

SUGARED
ORDER HERE!
Donut Pre-Order Form
Want to pre-order? Fill out this form by noon the day before. Once we receive your order, you will be invoiced. Payment must be received to confirm your order. Once we receive payment all you have to do is pickup on the date/time you've selected and come right to the register and we will have your order all ready to go! Easy peasy!
MINIMUM ORDER IS ONE DOZEN (pre-orders are during normal business hours only. If you have a special even outside of this, don't hesitate to email us and if we can help we will!)
Please complete the form below
FUNFETTI PUMPKIN SPICE CHOCOLATE GANACHE WHITE WEDDING
HONEY LAVENDER ORANGE CARDAMOM STRAWBERRY CHOCOLATE CHIP COOKIE DOUGH
cake order request
Hey Friends!! Thanks for stopping by! Please fill out the form below for any cake requests. We ask for at least a ONE WEEK NOTICE (The sooner is always better, but if under that window, feel free to reach out, if we can make it happen we will! RUSH ORDER FEE MAY BE APPLIED). Pickups are in store Tue-Sat. between 6am-2pm.
***We take a limited amount of custom cake orders each week (based on design/availability) but you can always order from the pre-designed styles/flavors pictured above. CUSTOM ORDERS WILL AUTOMATICALLY HAVE AN ADDITIONAL MINIMUM UPCHARGE OF $15 BUT CAN BE MORE BASED ON THE DESIGN.
Please complete the form below
(These submissions are requests and are subject to availability, Your order is not confirmed until you receive a response and invoice from us.)
APPLY HERE!
Welcome to Sweet Bakes! A brand that is filled with passionate people, creative thinkers, overachievers, servant leaders and folks having a blast doing what they do best -- helping others!
If you LOVE DONUTS, are a hard-working, welcoming and enthusiastic personality, THEN THIS IS THE JOB FOR YOU!!!
***Currently hiring part time customer service/cashier. We are a bakery so morning hours are our thing. So, being a morning person is a must. Only serious applicants need apply.
Please complete the form below